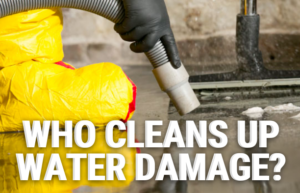 Have you ever woken up to the unsettling squelch of a waterlogged carpet beneath your feet?
If you're a homeowner, you know how devastating water damage can be. The immediate aftermath can be overwhelming, whether it's a burst pipe, heavy rainfall, or a faulty appliance. But who do you call to clean up the mess?
Come on, let's take a look at your options.
DIY Approach
While cleaning up minor water damage on your own may be tempting, it's essential to understand the risks. If not adequately addressed, water can seep into walls, under baseboards, and other unseen areas, leading to mold growth and structural damage.
General Cleaning Services
Yes, they can handle everyday spills and stains, but water damage is a different beast. General cleaning services might not have the necessary equipment or expertise to address severe water damage.
Professional Water Damage Restoration Companies
This is where the real magic happens. Companies specializing in water damage restoration, like Resto Clean, are trained to handle the intricacies of water damage cleanup, from extracting water and drying out properties to mold remediation and structural repairs.
Why Choose Professional Water Damage Restoration?
Specialized Equipment
Industrial-grade dehumidifiers, air movers, and advanced moisture meters ensure a thorough cleanup.
Expertise & Training
Restorers are often certified by industry-leading organizations and know how to identify potential problem areas.
Speedy Response
Time is of the essence when dealing with water damage. Professionals are equipped to respond quickly, minimizing the risk of additional damage.
Peace of Mind
Knowing that your home is in the hands of experts can alleviate the stress associated with water damage.
The Experts You Need When Disaster Strikes
Resto Clean stands out as the premier choice for homeowners in Wasilla facing the daunting task of water damage cleanup.
With a dedicated team of trained professionals and state-of-the-art equipment, we have built a reputation for excellence in water damage cleanup.
Water damage can disrupt your life, but it doesn't have to define it. With the right help, you can return to normal in no time.Don't let water damage drown your peace of mind. If you're facing a water-related disaster, contact us. Let the experts handle it so you don't have to.